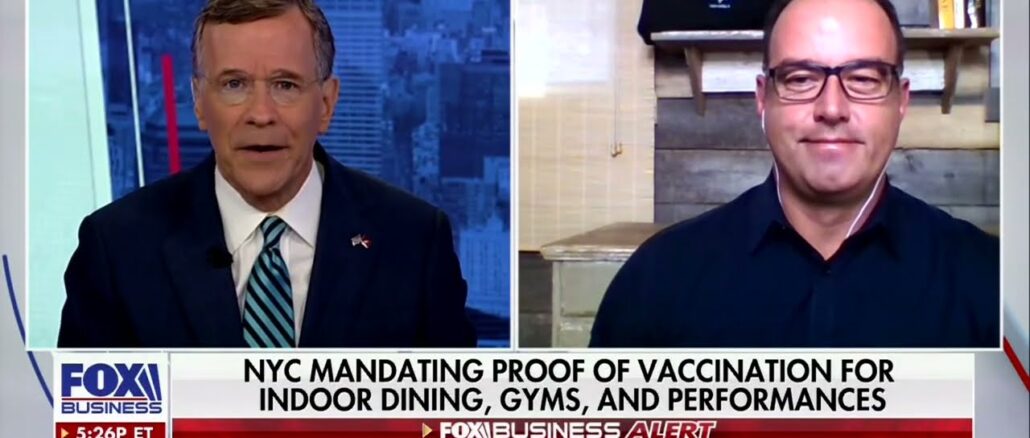 Speaker 1:
Well, the first city in the United States that is mandating vaccine, it's New York and New York City's unpopular mayor, Bill de Blasio, announcing that people will now need proof, to provide some kind of proof, it wasn't specific for vaccination, in order to dine inside, to go to gyms, and also to go to theater performances. Joining me to discuss this is Buddy Foy. He is the owner of restaurants Chateau on the Lake and Chateau Anna Maria. Buddy, great to see you. Thank you for coming in. I don't think, by the way, this is going to help de Blasio's popularity at all. He's already down in the basement. He's not running for reelection, but how is it going to affect businesses?
Buddy Foy, Jr.:
It certainly isn't going to help de Blasio, and I don't think he cares at this point. Businesses, it's going to hurt them further. Further restrictions, further regulations, it just impedes business growth. And I don't understand why any governor, or any mayor, or governor, for that matter, would want to impede any type of boost in an economy after the nightmare and a pandemic we've been going through.
Speaker 1:
And it puts business owners in the position of policing this new mandate. I don't know how they're going to do it. People, whether they go on honor, whether individual New Yorkers are going to be forced to carry around vaccine passports now or what, but it puts the onus on you, the business owner, to be the one who decides whether a person has been vaccinated or not.
Buddy Foy, Jr.:
Not only does it put the onus on us, who aren't trained to monitor this type of activity or be police officers in the first place, what happens when a party of 10 comes in and three of them don't have their card? It messes with our inventory. We then have seven other unhappy customers that are part of that party that we have to turn away. Police officers will be called, and we will take police officers that are already at strain in this city that's got an increased crime rate beyond comprehension. So now, we take resources away from where they're needed because we have to call 911 and get them to a restaurant because someone won't furnish a vaccination card? It's absurd. It further proves-
Speaker 1:
It is absurd. And again, you bring out a great point, which is that New York is suffering its worst crime wave since the 1970s. Officers are going to have to be called in to enforce this one way or the other. They're going to have inspectors descended. I got to ask, though, if theaters are part of this as well. Theaters like Broadway and music venues and so forth. I mean, this is going to slow up… They were just hoping to open in the fall in September. This could delay that for another six months and put even more of them out of business.
Buddy Foy, Jr.:
I tell you, I mean, I hurt for them. I got to be honest. Emotionally, when you hear that as an entrepreneur, it's hurtful. You just think about your fellow entrepreneurs, your fellow businessmen and women, and it's painful. I feel pain for them. And unfortunately, what happens in New York City will spread to the rest of the state of New York. That's why we moved to Florida with our expansion of our brand. We went to Florida and we opened more locations. We will open another one in Sarasota come November, and that's why we will expand our brand in… You've got to go where it's friendly to do business if you want to stay in business.
Speaker 1:
And I can tell you the tourists are not going to come back, certainly, the international tourists, but even US citizen tourists are not going to come into New York if the theaters are still closed, and this might just do it to those that haven't closed down entirely yet. Buddy Foy, Jr., great to see you, my friend. Thank you very much for coming in. Best of luck to you down in Florida.