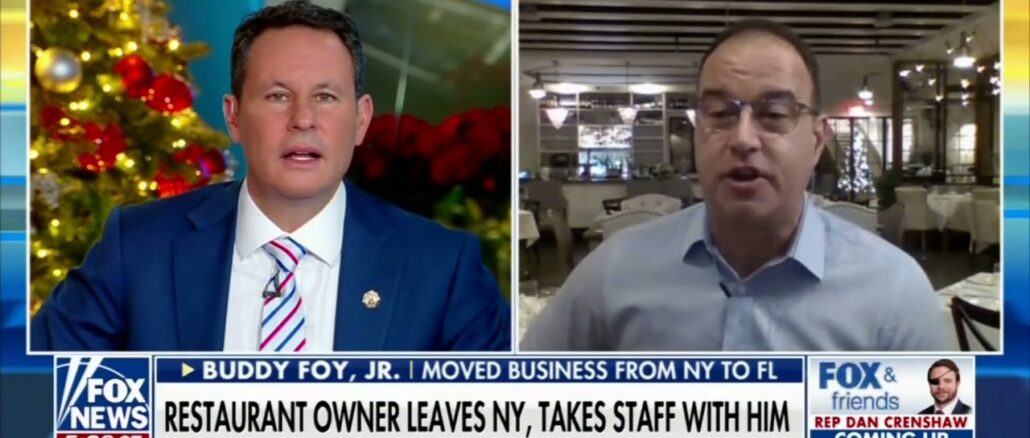 Brian:
All right, as Congress moves forward with a coronavirus relief package, one upstate New York restaurant owner isn't waiting for Washington to come to the rescue. After a statewide curfew was put in place for restaurants last month, 10 o'clock, Buddy Foy Jr. headed south for the winter. Now he has a new restaurant opening up in Florida and he brought his New York team with him. He joins us now at the restaurant, big announcement, The Sato Anna Maria. Congratulations Buddy on the move. What was your breaking point?
Buddy Foy Jr.:
Brian the breaking point was 10:00 PM closing, and the short notices that we got. When you get a 24 hour notice of change of hour of operation, you're losing food in your walk and cooler, there's only so much you can do where you finally have to make a decision to pivot and just don't complain, move forward and fortunately we had the resources and a local community in Florida that my brother happens to live close by and we reached out and we made it happen. So closing at 10 o'clock, that means I have to have customers sat by eight, because we're a two hour dining experience, we weren't going to do it and I didn't want to waste any more food in my freezer and my refrigerators.
Brian:
For people watching around the country, you'd be shocked how suffocating 10 o'clock is. Because if you work late at night and get out at six, by the time you get out, next thing you know, people are handing you styrofoam boxes and say, sorry, you got to go at around 9:45 and guess who hurts? Not only the owner, the bartender, the hostess, the waiters, the waitresses, everyone on down the line says what am I working for? The shift changes are enormous. Do you think they realize this?
Buddy Foy Jr.:
I don't, I'm not saying they're making these decisions to hurt us, but I think the officials really don't know what to do about COVID and when you don't know what to do in a situation, you're making decisions that aren't rational. And at the end of the day, the unrelating factor of the working folk, the decisions of those folk are definitely hurting the businesses. Listen, my chefs get their hours cut by two hours, Brian, we got to be out of the restaurant and the door locked at 10. That includes cleaning. We're in a food business. We got hygiene. We got to clean our surfaces in our kitchen and the floors, et cetera. That takes an hour and a half. So technically you're done cooking for your customers at 8:30 – 9 o'clock. So that just doesn't cut it. You can't even pay the electric bill underneath those hours.
Brian:
How Many of your employees are going down south?
Buddy Foy Jr.:
We got about 15 of us. We just opened this past Friday, about 15. I've got half my kitchen crew down here. I did leave half my kitchen crew up in lake George New York to focus on our chateau at home .com meal prep kits. So they couldn't come. Not everyone can come. People got kids that are comfortable where they are. They got friends, while they can't spend a lot of time with them, we didn't want to move a lot of the families out of the area, but we did move our young staff and my main executive chef and my sous chef and about five to ten front of the house servers.
Brian:
People are preventing you from making a living under the guise of protecting you like you're a child. Doesn't that get to the core of American capitalism. Really, you're preventing me from working.
Buddy Foy Jr.:
Fortunately for me, my staff feels the same way. They don't want a stimulus check. They want to work and earn. So I'm very blessed in that regard. [inaudible 00:03:18] motivating to me and my wife as a partner to say, you know what, let's keep them employed, they're willing to move down there, they're willing to push for a 60 day opening. It's offensive to not be able to be a business person, an entrepreneur. That's our spirit and we feel as though we provide jobs. You provide a service by serving our country. We like to do it in the business in employing people and feeding families, and you take that passion away. I cannot live without it, and we decided to move to Florida and Anna Maria island at the waterline marina in order to keep that passion or value system together.
Brian:
Hey Buddy, how many cases have been traced back to your restaurant?
Buddy Foy Jr.:
45,000 consumer touch points. 45,000. June through October zero cases traced back to our restaurant, zero employees. College kids that went back to college, got tested negative for COVID, 45,000 customers. My family owns three restaurants in that town. We had over 100,000 customer touch points, not a single COVID case traced back to a single one of our restaurants nor did our employees come down with it.
Brian:
And in New York city, the positive case point is under 2%. They said 1.04, it's the fifth largest cause of a spreader. And guess what happens? People don't go to Buddy's restaurant, they could go to their house where 70% of all cases spread. It makes no sense and they're also raising minimum a wage. We all want people to make a lot of money, but if you take a businessman like Buddy, and you make everyone get paid more, he hires less people, the shifts are adjusted at a time in which you've destroyed their businesses, you are demanding they pay everyone more. It is nuts. I'm so glad you are hopefully teaching New York a lesson by getting out. Buddy thanks so much.
Buddy Foy Jr.:
We'll be back there in the summertime though. [crosstalk 00:05:05] Thank you.