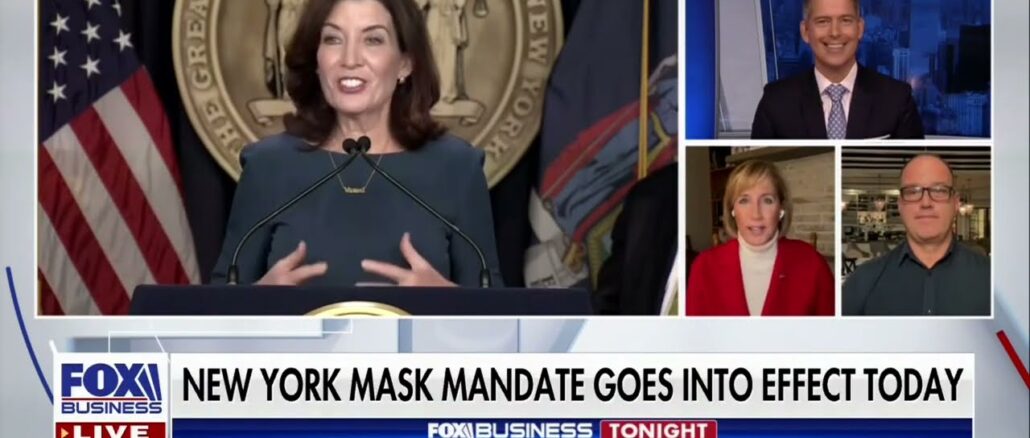 Sean Duffy:
Here now to react is New York, Republican, Congresswoman Claudia Tenney. She's a member of the Small Business Committee and Buddy Foy Jr., owner of a restaurant in New York state. Both of you, thanks for joining me. All right, Claudia, listen. First of all, Claudia and I served on Financial Services together in her first tenure in Congress. So to you, Claudia, what is going on in New York City? We are well over a year into this pandemic and we're back to mandates again? What is happening in this state and in New York City?
Claudia Tenney:
Well, we have the authoritarians in charge. Just when we think we're about ready to get rid of Mayor de Blasio… We got rid of Cuomo and now we have Kathy Cuomo, is what I call our new governor. Kathy Hochul, she's almost worse than Cuomo. She's like Cuomo, without the groping. She loves this quest and this assertion of power. And guess what? She put on a statewide mass mandate where she was going to put all her bureaucrats out to go after our small business owners. Then, within four hours, she backed off and then put it on our county executives and a number of them stood up and said, "We're not going to comply. We're not going to put this burden on our small businesses." Thank goodness. I'm a small business owner in upstate New York and they're struggling and suffering through this pandemic. The one group that cannot really withstand any more of these lockdowns, mandates, and authoritarianism is our small business community.
Sean Duffy:
Oh, yeah. Listen, it's great that we have some county executives standing up and pushing back and saying, "Listen, you can put your rule in place, but we are not going to enforce it." Good for them. So to you, Buddy, listen, what kind of impact is this having on the business community across the state? I mean, it can't be good if you want as many people to come into your business as possible.
Buddy Foy, Jr.:
Sean, we've got people leaving. They won't go, they won't dine, they're leaving. If you're going to force the mandate, they're leaving. You get people not only leaving the businesses, they're leaving the state, as a totality. I've talked to several people, customers of mine, that have left their gyms. They've literally said, "I'm not going to go to the gym and wear a mask. I'm done." So it's going to hurt small, Main Street America, and I'm beginning to think that's exactly the goal of this party.
Sean Duffy:
Yeah, you know, Buddy, if you're Walmart, if you're the big business, it really doesn't impact you, does it? But you're the small entrepreneur just trying to make a living. They're coming after you and shutting you down and taking away your customers. Here's what I'm concerned about, or what I'm hopeful for Claudia is, there is some kind of political fallout. However, I would imagine that the governor and the mayor have both poll tested this and would say, "Listen, we think that New York is with us on these mandates." What is it? Is there political fallout and they could lose and Republicans could win, or do they poll test it and the voters actually love these requirements?
Claudia Tenney:
I don't think the voters like these requirements and I think a lot of small businesses, which make up most of our communities, as Buddy just pointed out, I mean, look at almost 70 or 80% of my district employs most of the employees. The small businesses employ most of the employees in our region and upstate, and particularly hard on New York City when they have so many other restrictions. I don't think they're really pole testing. I think Kathy Hochul loves the power. She now has, somehow miraculously, the Attorney General Letitia James, who's very far left, who's gotten out of the race. So she feels like she doesn't have to worry about her on the left flank.
You know, now she's going to face… I think she's going to face some real problems going into the general election, so I don't know why she would do this. It's very unpopular in my area. And remember they all said, "Oh, you get vaccinated…" And this is a woman who wears a necklace that says, vax. "Okay, you get vaccinated, you don't have to wear the mask." And we know that the way that masks are being worn and we know a lot of it's for show. Where I come from, where you serve, the House of Representatives, only in the House do we have to wear a mask. You cross over that magic line into the Senate side and there's no mask mandate. How can that be science in the middle of the same building in the same city where there isn't a mass mandate? So, this is, again, I think Kathy's making a misjudgment. Kathy Cuomo, as I call her.
Sean Duffy:
I think when Kathy looks over her shoulder, she sees Republican Lee Zeldin standing, chomping at the bit, going to have a tough race for the governor in New York. But Buddy, one last question to you. Is the small business community coming together and trying to push back and fight back in some way? Because if you look at the big businesses, there's not a lot of owners that live in New York, but there's a lot of small business owners. Are they organizing and communicating to push back against these mandates that hurt their businesses?
Buddy Foy, Jr.:
I mean, we're communicating with each other, but nobody's organizing publicly. I have moved my business to Florida. I'm in New York. I shut New York down in November. I've been a year around restaurant, a small community in Bolton landing. And when we got shut down last year, about a year ago to a 10 o'clock curfew, I picked up 15 of my employees and opened a restaurant in the state of Florida. And in that time period, I've got two restaurants in Florida. So while my New York peers are being shut down, I'm expanding my business in a business friendly state, the freedom state of Florida.
We opened in Anna Maria Island on December 19th. I'll be opening in Sarasota around February 14th, February 15th. That's two restaurants in 14 months versus my restaurant in Lake George operating on a very limited schedule and shutting down for the winter months because frankly, we saw this coming. It came last year in New York, unfortunately, as hard as Representative Tenney's working, she's got a lot against her in New York and she's right-
Sean Duffy:
Yeah, she does.
Buddy Foy, Jr.:
A large percent of our businesses are small businesses, if not 80, 99% of them.
Sean Duffy:
Yeah. You know what? A lot of business thrives in the land of freedom called Florida. Both of you, Congressman Tenney and Buddy, thank you for joining me. I appreciate it.